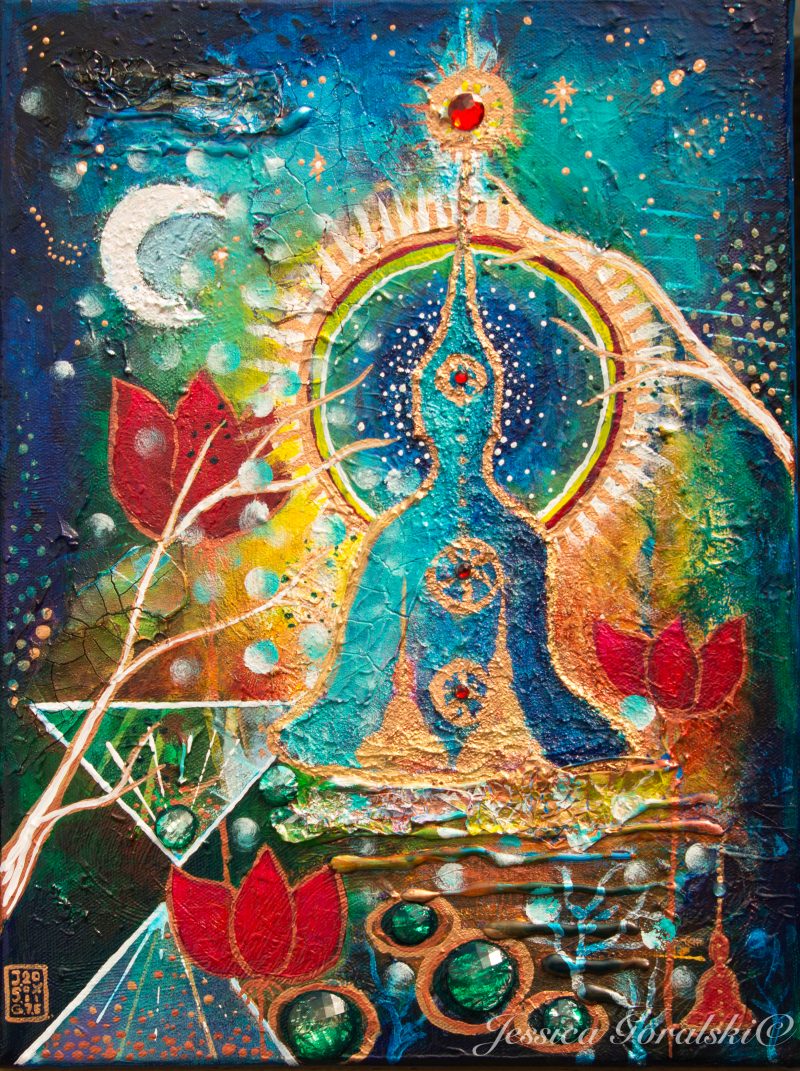 About the painting – Devotion
I started to work on the canvas in the winter of 2017, making marks, trying out different techniques, waiting for the painting to come forward. It wouldn't so I put it away for a while and came back to it from time to time. But still it wouldn't speak. I added more marks, covered up some, changed the color palate – still nothing. In the spring it started to clarify that it was a Buddha figure that was coming forward and I enhanced it with structure. During the spring I started my Qigong Trainer education and this sparked my creativity. I painted a few other paintings, mostly smaller in size and finished canvases that had been laying around for a while.
My Qigong tribe
After a Qigong meditation in the summer 2017 I finally felt and saw with my imagination where the canvas was going. I finished the whole painting in just a few hours after it had clarified in my mind. What a reminder – some things can't be pushed, they will emerge just when they are ready!
I chose to call it Devotion instead of Consistency as I originally intended; it is a powerful reminder of the spiritual realm where things happen according to their own (to us unknown) schedule.
Devotion means love, loyalty, or enthusiasm for a person or activity. Synonyms are: loyalty, faithfulness, trueness, steadfastness, constancy, commitment, adherence, allegiance and dedication. All of them are good descriptions of what my painting is about.
In Yangtorp Sanctuary, my second home and school where I learn Qigong – is a huge Buddha statue laying on the ground. It is also waiting. It weighs a few tons and has been waiting to be put in its place to show its glory for a while now. When I told Annica in Yangtorp that I want to donate the money from Devotion to Yangtorp she smiled and happily stated that it is going to be the first donation to raise the Big Buddha Statue! She hadn't seen the painting yet and didn't even know it has a Buddha figure as its main figure.
Sometimes things need a little encouragement to happen, even if it's the smallest gesture in a big project – so I donate the whole sum (1995 sek) from selling Devotion to raise the Big Buddha Statue. And I believe this special painting will find its owner at the exactly right time.
As long as the painting is for sale it can be seen at Yangtorp. If you feel that this story resonates with you please visit Yangtorp Qigong Sanctuary to see Devotion for yourself:)